I've known the NYC rock band The Unsacred Hearts since around the time of their inception, back when core member Travis Harrison (now Guided By Voices' producer/engineer) was operating a tiny recording studio out of a shack in a parking lot in Queens along with bassist Andy Ross (now of OK Go).
At some point, the band sent a copy of the precursor to their debut EP (with 7 songs at under 15 minutes, there isn't a skip in the bunch and I maintain that it is a damn perfect piece of rock 'n roll fury) to David Berman of the Silver Jews. Berman replied with a hand-written note:
Dear Joe Willie,

Thank you for the CDs. Sorry I just have a tapedeck now, but it looks great + the lyrics are some fine-ass lyrics. Good luck all the way.

David Berman
Silver Jews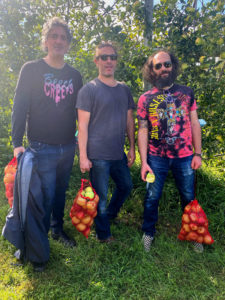 Fine-ass lyrics they were, and continued to be thru years, as the band sporadically recorded and played live, releasing three expertly-crafted full length records through shifting lineups and stages of life. Now, the band takes a surprising turn – though for those of us who sweated through the lower east side and random midtown venues of the 00's with the band, it shouldn't be news that they love a good cover – paying tribute to the musical hero who inspired them for so long, and lent that crucial bit of encouragement way back when. The band's current form: hollering Joe Willie, guitarist Dave Siegal, drummer/engineer Travis Harrison, and Annie Nero on backing vocals (whose voice you've most definitely heard on some of your favorite records of the past decade or so…) share their take on a selection of tunes form the Berman songbook. The five-song collection runs from the early Silver Jews classic "Trains Across the Sea" (Starlite Walker, 1994) to the late heartbreaker "All My Happiness is Gone," (Purple Mountains, 2019) as well as venerable Berman chestnuts "Slow Education," "Random Rules," and "The Wild Kindness."
We're excited to announce this record – a collaboration with our friends at Wild Kindness Records (we couldn't NOT work with them on this one, right?) which will be available on CD and digitally everywhere on November 12, 2021.