Doing this again.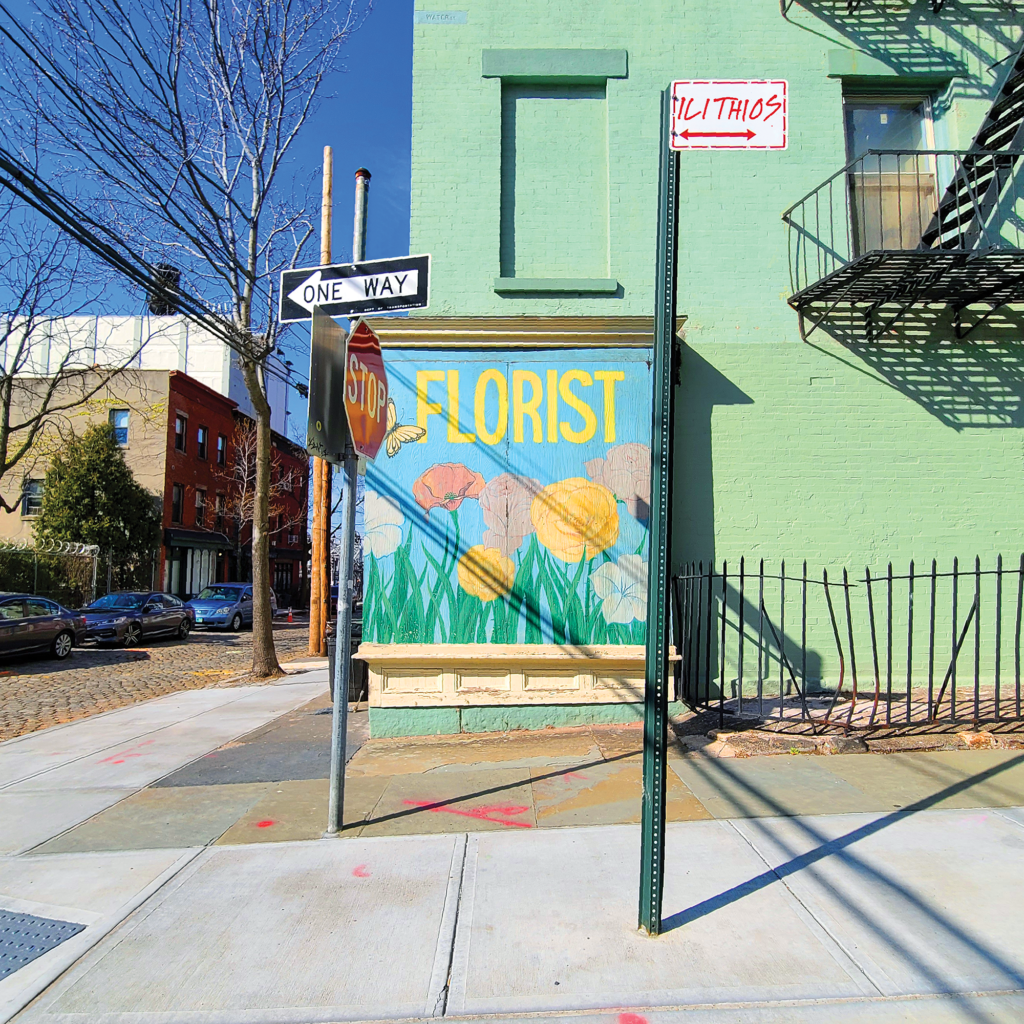 What follows is an unauthorized, facts unchecked account of Florist, the debut LP from Brooklyn-based experimental pop artist Ilithios, which comes out Friday, October 23, in the year of our national, international, natural, and supernatural disasters, 2020, written by the person who runs this fake-turned-totally-real record label.
A little background is required here. I first met Manny Nomikos a decade ago when he was playing in Coyote Eyes with two of my good friends: one a former bandmate and future coworker (and now business collaborator on this release), the other a frequent concert and late-night snacking buddy in the hazy 00's in NYC (and another future TRR artist). Earlier this summer, as the pandemic shut down live shows and streaming concerts became the norm, I – and many of my NYC music friends – were so impressed by the way Ilithios seemed to appear out of nowhere and put on performances that were unique, engaging, and presented brand new music in a captivating way. That was when I reached out to see if Manny had any more music in the pipeline that I might be able to help get out in the world.
As Ilithios, Manny has crafted such a distinct and striking world with this album, which I fully believe should be absorbed in full to truly appreciate it all – and it's worth it. The Florist setting is the perfect amalgamation of the songs' themes of loneliness, isolation, death, love, and self-reflection, framed with references to dance, mystics, religion, modern technology, and space travelers so fantastically woven throughout it. Production-wise, Jeff Berner worked some real magic in co-producing/mixing this whole thing with Manny, and also contributed some super gnarly/tasteful instrumentation along the way.
Think B4 U Spk draws you in with subtle waves of vocals and sets the scene for the record. A hazy, murky, pre-apocalyptic barren cityscape full of dreamers, uncertain of the next steps. Quarantine sure casts this scene in a different light, but how can you hear these opening lines and not connect it to what 2020 has brought?
We're going nowhere
It's cruel weather for days
I know you're lonely
You swore if you had some time alone
You'd find the strength to make your life whole
And it continues… there's a weird moment that wouldn't stand out as any more than a clever line if you didn't know that Manny's former Coyote Eyes bandmate Marta leads TRR band Weekend Lovers – who also has a record coming out, on which they cover the song "Father Figure" by George Michael – it's a small music world, but surely just a coincidence. The idea of questioning identity is introduced here, and yes, this is feeling like a realness. Who are these four strangers though? Maybe a band on tour? Maybe it's a reference to a film? Maybe neither – but here, it feels like it's just us.
The record's title track carries a heavy load – from the desire to go out, the self-reflection, and establishing the florist theme for the record, wrapping it all up like a perfect bouquet – all with a huge sound and a flawless vocal assist from Manny's CATTY bandmate, Ana Becker. There's a lot of longing in the song, and it's up to us to take this trip and see where it leads.
O Hell comes next, and starts brighter and more upbeat – maybe we are getting to go out tonight after all, with a crooning conflation of the fucked up world and our fucked up selves. The energy is ecstatic – CATTY/Holy Tunics guitarist Bryan Thornton's contributions to this one are key – the wall of sound occasionally drawing back for those waves we heard in the beginning of the record, as Manny hits that self-reflection and dips into Greek for the first time here. He's a filmmaker, of course there's foreshadowing. As I write this, I'm realizing that this song needs a huge video, set on an an old timey soundstage with a cast of hundreds dancing circles around our hero – I'll get on the budget for that ASAP.
Into PYG, a bit of the drama drops off and the absurdities and realities of real life – especially in this new normal – start to come to the surface. It might be a song about doomsday preppers? There's an M.I.A.-esque moment that will immediately snap you back to 2009.
Trash Pandicoot – as we approach the midpoint of the record, this one starts with a disorienting stereo waver, with a beat that echoes O Hell before rising to a satisfying thrash, as Manny repeats "move on, move on, move on" – maybe this is some kind of twisted motivational video game music, an imported imitation of the real thing – we're likely living in a simulation anyway.
Eventually, the fog has to burn off, and our vision can clear. Leave The Country does that, as Rosie Slater's (also a bandmate in CATTY, plus New Myths, Sharkmuffin, Delicate Steve, etc) voice joins Manny in a serene tale with a clear mission: "You're all I've wanted and there's just no time to wait around" – what happened to all that time to make our lives whole?
Santa Fea's calling to answer: "the loneliness is fine" – maybe it's not really what we wanted after all, but it's what we got. Slipping between English and Greek, our narrator's consciousness may just be splitting here, as promises from the people we're told to trust just don't really hold up.
Our theme reemerges in the interlude before the cathartic explosion about to come:
I am so happy to be here right now
This is the prettiest place on earth
I am filled with optimism
We no longer feel the panic of loneliness
I love to look at pictures of my friends
Our past is getting further away from us
I am overcome with feelings of joy
Let me show you
Ill arrange it like a florist
Please, end our suffering, please.
Rattle Your Sabre will shake you. A big beat, haunted guitars, a nod to Madonna, and a warning to a past self. There's no perfect future, we know that now. There's only whatever there is, right now.
Is This Our Dance was the first real taste many of us got of what Ilithios was capable of. Still talking perhaps to his past, childhood self, it picks up where RYS leaves off, accelerating the drama and tension in a frantic movement of sound and energy. If you feel possessed and compelled to move, then something necessary is happening. But you're not ready.
In August Shadows, reality is setting in. We're at home, staring at screens, living fake digital lives, but where are the people we love and how honest are they being with us, with themselves? Distance, loneliness, and uncertainty take hold, and we might as well face them.
Grab a partner if you're lucky enough (or cursed) to be isolating with one, this is a slow dance. Buttons is a dreamy sounding song of the rejection and regret that comes with heartache, the album's most poetic passage – delivered fully in Greek, and a reminder that Ilithios is no florist, no painter, not in control, and that we're all still hiding something, even as we're singing out all our truths.
If August Shadows and Buttons are the denoument of the record's story, Too Soon is the epilogue, drifting back down to whatever our current reality is, but it hints that there's more to the story. What's next? How long will this bouquet last?
Florist by Ilithios is released October 23, 2020 from Totally Real Records and Stereoactive Media.
Pre-order the vinyl at Bandcamp and pre-save the record on streaming services now.