The 6th record from Kingston, NY band Battle Ave has been out for over a week now, and the response has been amazing. Huge thanks to our partners Friend Club Records and Transmission Publicity for doing a great job getting this incredible record out into the world!
Listen or purchase the album here.
Here's some of what the press about the album said…
The great UK blog Various Small Flames first announced the album and premiered the first two tracks, saying "What emerges is a constant interplay between contemplation and forward motion. An openness to contradiction that allows vastness to sit alongside intimacy, ominousness next to sincerity, and ultimately embraces the beauty and truth of ambiguity. I Saw the Egg is the work of a band who have come to understand the value in dropping any preconceptions or images of their own future, allowing themselves to be shaped by the uncertain present instead."
The Alternative premiered the album with a fantastic, in-depth interview with Jesse.
Ghettoblaster reviewed the album, saying "I Saw The Egg is an interesting release, a captivating release that sounds like nothing you've ever heard but there's a familiarity about it. It's stunningly orchestrated throughout with scattered rhythms and band interplay. It's easily one of the best albums of the year so far."
The helium ant who runs SMALL ALBUMS has been very kind to the band, covering the singles and album and naming it the best album of the first quarter of 2022!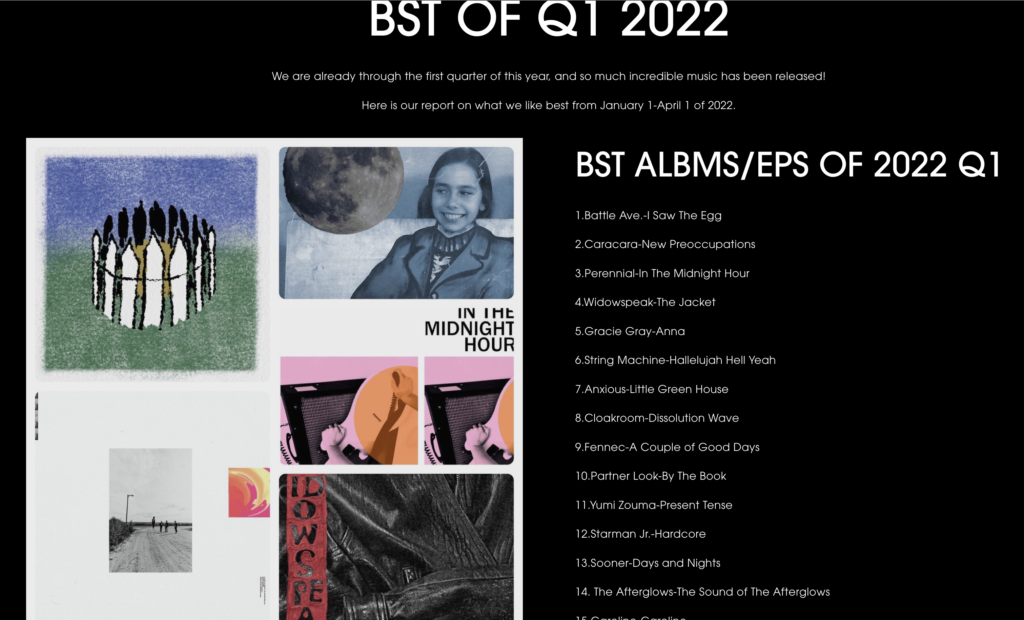 Stereogum shared "Leo" & "Maya,", "I Saw The Egg," "Fool," called "Core" "one of the band's heaviest songs, and there's a bit of doom in its drums, but it's a whole lot closer to '90s Low than it is to, say, High On Fire."
PASTE premiered Core and called it one of the week's 10 best new songs.
Consequence did a super cool Origins story on "Fool" and of "Leo" said the song "fits neatly with the rest of the group's catalogue thanks to its melancholic, gentle energy."
Analogue Trash reviewed "Fool," saying "There's a lush yet strangely fractured quality to fool."
American Pancake reviewed "Fool," saying "for me, [fool] expresses the crushing heartbreak of youth that you come to find out has nothing to do with being young at all, it is something you feel at anytime in your life, it is life." Of "Leo," they said "the sounds feel brilliant, quirky and somber all at the same time. It is the kind of vibrant sound set in the concrete of old forgotten neighborhoods that makes you see interesting cinema that tugs hard at your heart and brain."
The Revue said about "Core" – "This is the genius of the band – delivering unexpected contrasts that makes us contemplate our own existence in these stark times."
Dusty Organ on "Leo" – "The contrast between the raspy vocals of frontman Jesse Doherty and the velvety voice of Laura Stevenson add a raw and gripping feel to the track."
Electric Sound Of Joy called "Leo" "a slowly building paean to dysfunctional friends."
Tuned Up called the album "a rich new gospel to add to the canon of lo-fi indie rock."